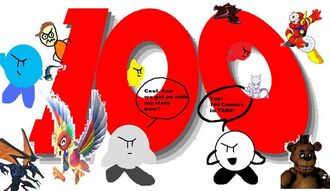 "YAY! We had 100 TARS Comics. Also, today is my Birthday! Thats why I made 3 comics yesterday! To have Comic 100 today!"
      —Deviantart Description.
Comic 100!
is the 100th
comic
in
The Air Ride Series
. It features all of the most major characters of the series celebrating 100 comics.
Characters
Edit
This is the only comic to be unnamed, only being referred to as the comic number.
By sheer chance, this comic ended up being released on Poyo Ride's birthday. Comic 99: Silver Kirby is the only comic to share this distinction, being released the same day as this comic. There was no comic released in 2016 on Poyo Ride's birthday.
This comic marks the halfway point of the TARS comics having been reached.